Domain Name Registration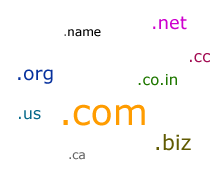 Often considered as one of the prerequisites for starting an online business, a domain name should be effective and have a lasting impact on your target audience. It should be chosen on the basis of an in-depth analysis and market research with regard to your business sphere.
Located in New Delhi, Olive Web Hosting, as a premier hosting solutions company, provides reliable and powerful choices of domain names, domain registration and administration tools like DNS management, domain protection and a lot more – all at competitive prices.
Options Galore
We offer a range of extension options - .com, .in, .co.in, .org, .net, .biz, .info – which can be easily searched and accessed through some of the top-notch search engines.
Easy & Affordable Registration
Our registration process is simple – just send in your requirement and we will provide you with myriad choices in domain names.
Complete Control
We let you opt for the administrative and registration rights of your domain, thus allowing for complete control of the same.
SEO Friendliness
We offer you easily indexable and industry-oriented domain names that help in better search engine crawling of your site.